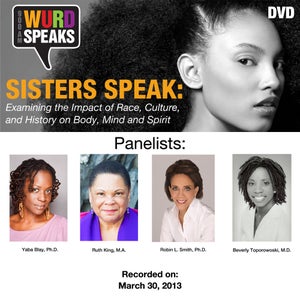 $

12.00 - On Sale
WURD hosted Sisters Speak: Examining the Impact of Race, Culture and History on Body, Mind, and Spirit on Saturday, March 30, 2013 in the Pennsylvania Convention Center Auditorium.
This amazing panel was comprised of women that are experts in emotional health and well being.
Panelists included:
Yaba Blay, Ph.D.
Ruth King, M.A.
Robin L. Smith, Ph.D.
Beverly Toporowski, M.D.
Moderator: Sara Lomax-Reese, President/General Manager of 900-AMWURD
Have this piece of healing history your library!
Get your copy today.